Welcome to B&H Boarding and
​Grooming Center, LLC!

Office: 715-463-DOGS (3647)

Mobile (Call & Text): 715-441-5972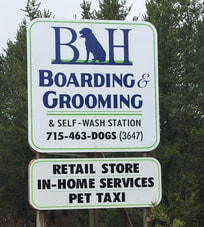 Updates, Events, & Closures
NONE AT THIS TIME
---
What We Offer:

Overnight Dog Boarding
In Home Pet Sitting Services

Daytime Dog Sitting (Doggy Daycare)

Professional Grooming, Bathing, & Nail Trims

Self Wash Stations for Public Use

Pet Taxi
High Quality Pet Foods


Retail Store of Select Pet Items

​ (collars, leashes, toys, treats to name a few)

Red Dingo Customized Pet ID Tags

Our Location:

​14682 State Road 70
Grantsburg, WI 54840

Our facility is located about one-and-a-half miles east of the MN/WI border on the north side of State Road 70.

Watch for our sign on the highway.

Click Below to Request a Reservation Online
(Excludes In-Home Services. Please call our office for more information.)

---
Walk-In Office Hours

Monday, Tuesday, Thursday
8am to 11am
1pm to 6pm
Friday
8am to 11am
2pm to 7pm
Saturday
8am to 11am
Sunday
​3pm to 6pm
Strict appointment times outside of these hours are available with
prior staff approval only, based on our availability
. A missed appointment time will be required to wait for the next Walk-In Office Hour. Absolutely no entry or appointments between 8pm and 6am Monday through Friday, and 6pm and 7am Saturday & Sunday.
No Exceptions.
---
Customize Your Pet's Online Profile
Upload your pet's picture, change your contact information, request services, and leave us detailed instructions for your pet.

​

---